Consumer Guide
Index
Submit Article
Consumer News Articles on
Products and Services
Auctions
Adoption
Auto
Biology
Business
Business Transportation
Directory
Presidential Address:
Women's Small Business
Owners
Cell Phones
Computer
Consumer News Articles
Consumer News Articles
Cosmetic Surgery and Financing
Culture
Digital Photography
Disabilities
National Disability Employment
Awareness Month
Disaster Help
Guide to help
Rebuild Your Home
DVD's
Earthquakes
Electronics
Employment
Administrative Service Managers
Engineering, Science, Computer
Systems Managers
Education
Educational Software
Distributors
Original Educational
Software
Initiative by
President Bill Clinton
Energy
Presidential Energy Address
April 2005
Spectrally Selective
Low-E Glass
Fashion
Financial
Currency: Buying, Selling
Redeeming
E-Commerce Associations
Directory
Fair and Accurate Credit
Transaction Act of 2003
Merchant Account Services
Costs and Fees
Fishing
Government Info
Homeland Security
Health
Health Insurance
HIPPA
Government Health Guides
Identity Theft
Consumer Confidential:
The Privacy Story
New Law Signed
By President Bush
Information
Insurance
Jets: Private
Jewelry
Legal Guides
Machinery
Farm, Food Processing
Packaging
Medicare
The Medicare Prescription
Drug Improvement and
Modernization Act of 2003
Patents & Trademarks
Patents, Trademarks, Copyrights
Press Releases
For Immediate Release
Real Estate
American Dream
Downpayment Act
Financing Energy
Efficient Homes
Home Builder Internet
Services
Sustainable Design:
Energy Efficient Homes
Soccer
Soccer.com
Free Soccer Posters
Shopping
Specialty Directories
Taxes
Technology

Time
Toxicology
Asbestos Issues
Legislative
Analysis -
Asbestos Information Act of 1988
H.R. 5442
Travel
Tips For Women
Traveling Alone
Other Online Guides
e-Commerce

Shopping

________
Disclaimer
Free Soccer Posters!
From The Federal Government's 'Sports Initiative' (CDC)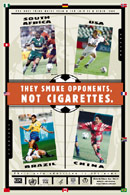 International Soccer Stars from South Africa (Shaun Bartlett), Brazil (Sisi), China (Sun Wen), and the U.S. (Landon Donovan) are featured on this cool poster that says "the only thing worse than a red card is a black lung. They Smoke Opponents, Not Cigarettes"
Women's United Soccer Association and the American Legacy Foundation.

This action-oriented poster was developed during the WUSA's 2002–2003 seasons by the American Legacy Foundation with support from the Campaign for Tobacco-Free Kids and the CDC's Office on Smoking and Health. It emphasizes the Tobacco-Free message, and while supplies last, it is available at no charge through CDC.
To order free posters: Print the Publications Order Form and select the product(s) you would like to order from the catalog. If product doesn't appear on form, write the name of Poster on form.
Mail form to:
CDC's Office on Smoking and Health Publications
Mail Stop K-50
4770 Buford Highway, NE
Atlanta, GA 30341-3717

(If you have trouble downloading the form, just write to the address above and request the posters.)