The electricity industry is changing. More than one-third of all U.S. consumers can now buy electricity made from renewable energy sources like the sun, wind, water, plants, and Earth's internal heat. Such power is sometimes referred to as "green power", or "clean power".

In most states, you can buy clean power through green pricing programs offered by your power company. And in some of the states that have a competitive electricity market, you can choose an independent company specializing in producing power using renewable resources as your power generator.

Choose from the main topics in this section to learn about the process for purchasing clean power and the options available in your state.

Can I Buy Clean Power in my State?

You can help add electricity generated from renewable energy sources to our nation's electricity supply no matter what state you live in. Here are the types of programs that might be available to you:
Green pricing programs. In most states, you can purchase clean, renewable (or, "green") power through green pricing programs offered by your power provider (i.e. electric utility). Green pricing programs allow customers to pay a small premium in exchange for electricity generated by clean energy sources. Check out this table to see if your power provider offers green pricing programs. If they do, contact your power provider directly for details about its program.
Competitive electricity markets. In some states, you can now choose to have your electricity produced by an independent clean power generator , instead of buying it from the power provider assigned to your area. Check out this map to see if clean power generators are offering retail and/or wholesale clean power products in your state.
Green certificates. Even if you can't choose who generates your electricity, or purchase clean power from a green pricing program in your state, you can always purchase green certificates. When you purchase a green certificate, you are basically buying the environmental attributes of the electricity that a clean power generator is feeding into our nation's electricity grid.
Some power companies are now providing an optional service, called green pricing, that allows customers to pay a small premium in exchange for electricity generated from clean, renewable ("green") energy sources. The premium covers the increased costs incurred by the power provider (i.e. electric utility) when adding renewable energy to its power generation mix

.
Many power providers are offering green pricing programs to build customer loyalty and expand business lines as they prepare for competition in the electricity market. More than 80 green pricing programs are now available across the country.
The following sections will help you learn more about green pricing programs:
Buying Clean Power in Competitive Markets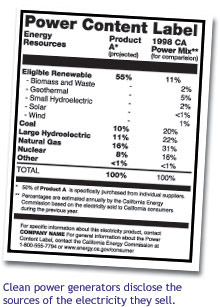 In some parts of the country, consumers can choose not only how their electricity is generated, but also who generates it.
Just as the long-distance telephone industry was restructured, certain states have restructured their electricity industry in order to allow competition among electricity generators. In some of these states, clean power generators

, who specialize in producing electricity using renewable sources, are taking advantage of the restructured market to sell clean power products to residential, commercial, and wholesale customers.
Efforts to sell clean power are aimed at consumers who will choose to pay slightly more for renewable energy products and services that reflect their environmental values. The small premium you pay offsets the additional costs power companies incur in purchasing and/or generating electricity from renewable sources.
The following sections will help you learn more about buying clean power in competitive markets:
Buying green certificates allows you to contribute to the generation of clean, renewable power even if you can't buy clean power from your power provider (i.e. electric utility) or from a clean power generator

on the competitive market.
An increasing number of clean power generators are now separating the power that they sell to power providers from the environmental attributes associated with that power. These environmental attributes, called green certificates (also known as green tags, renewable energy certificates, or tradable renewable certificates), are then sold to companies and individuals that want to help increase the amount of clean power entering our nation's electricity supply.
By separating the environmental attributes from the power, clean power generators are able to sell the electricity they produce to power providers at a competitive market value. The additional revenue generated by the sale of the green certificates covers the above-market costs associated with producing power made from renewable energy sources. This extra revenue also encourages the development of additional renewable energy projects.
Several organizations offer green energy certificates that can be purchased separate from your current electricity service. A list of organizations selling green certificates can be found on the Green Marketing Activities page of the U.S. Department of Energy's Green Power Network.
Electricity isn't something that we can see. So sometimes it's hard to know if you're really getting what you've paid for when you buy into a green pricing or other such clean, renewable power program.
To help consumers assess the true environmental impact of their electricity choices, the National Association of Attorneys General has developed the Environmental Marketing Guidelines for Electricity (PDF 201 KB) (Download Acrobat Reader). In addition, a couple other organizations have started providing independent information on or certification of clean power products for consumers.
If you're thinking of buying clean electricity, either through a green pricing program

from your power provider (i.e. electric utility), or on the competitive market from a clean power generator

, visit the Web sites in the sections below to see how the product you're considering measures up.
Technologies Used in Large-Scale Clean Power Production
These renewable energy technologies are used to generate electricity for residential, commercial, and wholesale customers. You may find one or more of these technologies offered in green pricing programs

or by clean power generators

in your area.